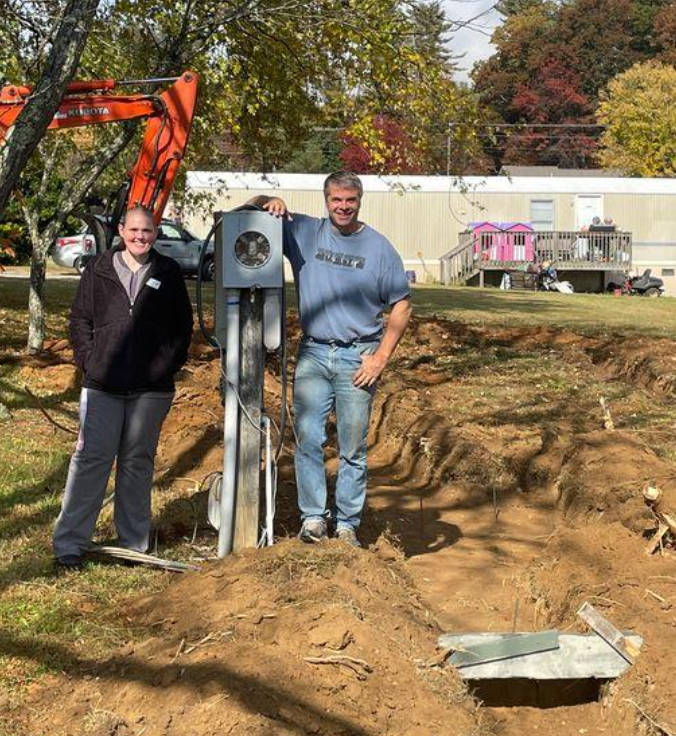 Laura Denon, Transylvania Times
Nearly a year has gone by since the abrupt closure of Transylvania County's
only adult day care facility. Residents continue to drive family members and
loved ones out of the county to obtain services.
A handful of community members and organizations are working on opening
a new facility, including Tore Borhaug, local business owner and president of
Tore's Home, Inc., who plans to transform one of his existing buildings.
"In spite of the time-consuming challenges I am very optimistic that we will
be able to submit our application to open our adult day care soon," said
Borhaug via email. "Since I was approached by the Friends of Adult Day Care
last spring we have spent much time and resources on developing the plan to
restart an adult day care in Transylvania County. The progress has not been
as quick as both Tore's Home and the community would have hoped for."
Borhaug provided a "progress report" that was sent to members of the
Friends of Transylvania Adult Daycare. The group, which has been meeting
since February, was co-founded by Kathe Harris and Al Vissers to bring back
to the county the essential service of supervised day-time support for adults
with physical and/or developmental challenges who cannot be left alone.
As previously reported last May, Ranessa Thomas, the former MountainCare's
Transylvania County program director, sounded the alarm bells that the
program was running out of money following Mission Health's acquisition by
for-profit hospital conglomerate HCA Healthcare, which cut the adult day
care program from the purchase. This left MountainCare on the hook for
previously hospital-funded operating costs like rent and utilities.
At the time, Thomas hoped community support would help keep the program
alive, but employees and caregivers in the nonprofit program were abruptly
notified of the closure on Monday, Jan. 31.
The nonprofit Pisgah Health Foundation (PHF) has been involved with the
Friends group since it started.
PHF was founded through the funds received when the nonprofit hospital
transitioned into a for-profit entity.
As previously reported, PHF had applied for nonprofit status a number of
months ago, but former President Lex Green said PHF had decided to support
the private sector initiatives instead and not pursue its own adult day care
facility.
Cathleen Blanchard, PHF's board chair and current spokesperson for the
organization since Green's resignation in September, said PHF is "actively
pursuing" the adult day care program but declined to comment further when
asked.
Borhaug said in his report he had purchased in October the stored equipment
used in adult day care from PHF. The equipment will be ready to go, he said,
when he opens.
"If you talk to most employers today, you will learn that we are all operating
in very unprecedented challenging times," said Borhaug, who didn't give an
opening timeline.
Borhaug outlined how his company is addressing staffing concerns, including
building affordable housing for staff; obtaining a childcare licensure to
provide care for his employees' children so parents can work; and developing
a transportation network to bring staff to and from work.
"Significant effort has been expended for setting up and funding of a
scholarship/voucher program to financially assist low-income seniors and
caregivers to receive the benefits of adult day care," said Vissers via email.
"Our goal is to have a program and funding in place at the time Tore Borhaug
opens, making adult day care services available to all in our community."
Harris is optimistic the county will have adult day care services again.
"I am excited to see the progress leading to reopening adult day care here,"
she said. "Our family benefited enormously from the former KOALA. I
enjoyed volunteering there and seeing the impact it had on families and
participants. I think we will see these services here sooner rather than later."
𝗧𝗼𝗿𝗲'𝘀 𝗛𝗼𝗺𝗲 𝗕𝗿𝗲𝗮𝗸𝘀 𝗚𝗿𝗼𝘂𝗻𝗱 𝗳𝗼𝗿 𝗔𝗱𝗱𝗶𝘁𝗶𝗼𝗻𝗮𝗹 𝗘𝗺𝗽𝗹𝗼𝘆𝗲𝗲 𝗛𝗼𝘂𝘀𝗶𝗻𝗴 𝗶𝗻 𝗙𝗹𝗮𝘁 𝗥𝗼𝗰𝗸, 𝗡𝗖
Tore's Home, through one of its subsidiaries, has just broken ground to build more employee housing in Flat Rock, North Carolina. These new, modular homes will add to the current inventory of numerous employee housing units that has been added over recent years. Such housing has been offered to full-time employees of Tore's Home. The homes will provide affordable housing at approximately 30-60% below market value. The goal going forward is to continue to offer housing that Tore's Home employees can afford as described by government data. 
Tore's Home will soon announce groundbreaking of more housing units to be built in Brevard, North Carolina. The plan is to add about 28 additional housing units to the existing housing stock by mid to late Summer of 2023. Once supply is increased significantly the hope is to be able to offer such housing to the public as well.
In the next few weeks, Tore's Home also hopes to announce important news regarding the opening of an After-Hour Childcare center for Tore's employees. If successful, the plans are to extend such childcare on a larger scale to the community at large.
Tore's Home is a recognized leader in elder care in Western North Carolina with campuses in Brevard and Flat Rock. The company opened in 1996 and provides the highest quality of senior living choices including: assisted living, Alzheimer's/memory care, respite care, extended care, and end-of life care.